Select a WordPress Site
Launching your website with ReadyShip is incredibly easy! All you need to do is select a Ready-Made WordPress site that you like. The only information you have to input is your email address, password, and a domain name for your website. There is no need to input your payment information right away.
Launch a WordPress Site
Once you've found a WordPress site you like, you can launch your site right away. Our service includes a free 7 days trial period, so you can get a feel for how it works in actual use.
Plan Selection, Domain Settings, and Member Registration
First, select one of the three plans we offer: Small, Medium, or Large.
> Details about Each Plan
Feel free to use one of the seven subdomains ReadyShip offers. If you want to use your original domain, you can set it up after the website is being launched.
If you haven't registered as a member yet, you can enter your name, email address and password on the same page.
A confirmation email will be sent to you. Please click the link to confirm your email address and login to your account.
Log into the Control Panel and begin your launch
Once you login, you can setup a title and login information for your WordPress site and then click Start Building in order to launch your website.
Once you click Start Building, the website provisioning will begin. The cloning will be complete in about 5-10 minutes, and once your website is ready for use, we will send you an email.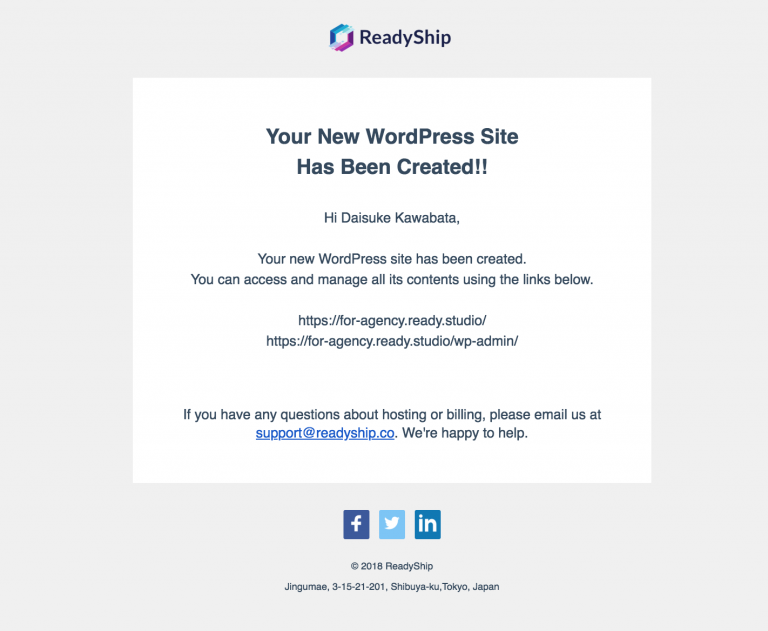 That's it! Now you can login to your WordPress site and start editing!
Free Trial Period
Once you have launched your website, you can use it at no charge for 7 days. If you enter payment information at the launch process, you will get a bonus of extra 5 days on your trial period, and you will be able to use your website for free for 12 days.
If you want to continue using your website, please enter payment information in the control panel in your account prior to the end of the trial period. If you don't enter payment information, after the trial period ends, you won't be able to use your website. In this case, your website will be removed after a period of 21 days.
If you don't want to continue using your website, you can delete it from your control panel in your account. For more details, please check Cancellation.