Using a Domain Provided by ReadyShip
RedyShip offers pre-made subdomains that can be used at no extra charge. Additionally, you can set up your own original domain. Our service also includes SSL (HTTPS) certificate at no extra charge.
You can select from the following 7 domains:
*.53go.shop *.b22.site *.aixs.city *.co775.com *.ready.studio *.wwebs.co *.wp-s.biz


Using Original Domain
Setting up an original domain is included in our service at no extra cost. We also provide SSL for free. The procedure for setting up an original domain is described below:
Go to your website settings page, and in the block about Domain click Change. Then select the radio button Use your own domain.

Next is input your desired domain and click Request DNS Records. This step will generate DNS records for your domain which will be displayed on the screen and also sent to you via email.

Add the generated DNS records on you domain provider dashboard. There should be a button Create Record or Add Record where you will need to put the records Names and Values. If there is a field called TTL ( time to live), you can leave the default value. In case you don't know how to add DNS records, please check your provider documentation or contact their support. Please make sure to create the records within 72 hours.

The previous step is the last thing you need to do on your side. The next step is to wait until AWS (Amazon Web Services) verifies the records which is done completely automatically by them. In other words they are checking if the records are put correctly. This procedure usually takes 1-3 hours creating the records, however they have stated in their documentation that sometimes can take up to 72 hours.

Our app will perform periodical background checks of the records validation status which will be displayed all the time so you can check anytime. Whenever the records are validated, your domain will be automatically changed and you will receive notification email.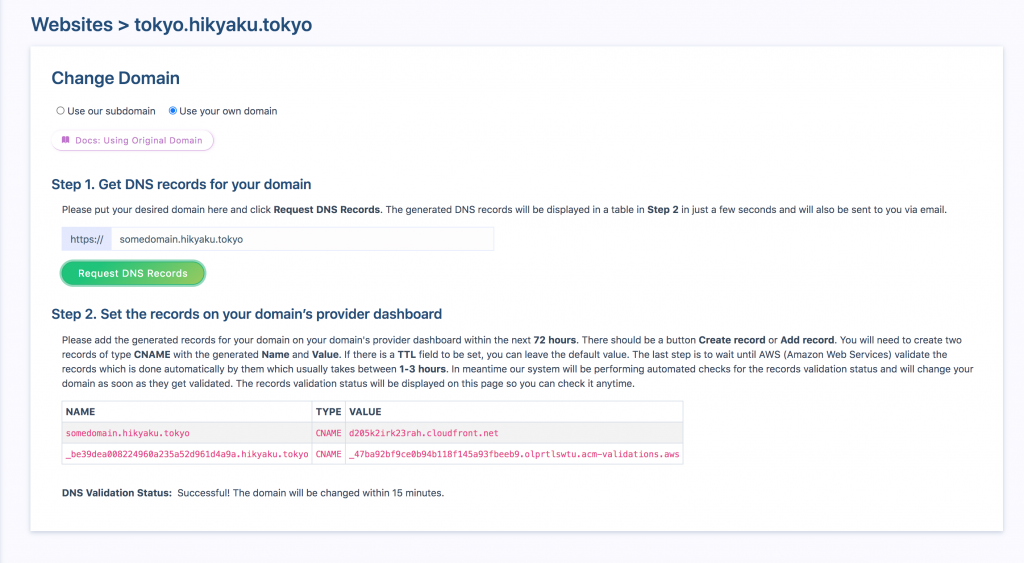 In case of records Validation Timed Out, you will need to go with the procedure all over again from the start. Validation timed out means that AWS failed to validate the records within 72 hours from the generating point. The reasons for failed validation can be wrong record(s) Type, Name or Value or some internal AWS problem which is very highly unlikely.
Changing SSL Certificate
SSL certificates provided by ReadyShip are issued by Amazon Web Service's Certificate Manager. You may change your certificate to an SSL issued by another institution (such as an EV certificate). If you wish to do so, please contact our support team.
Using an Original Domain Name for Your Email Address
For example, you may wish to change the sender of automatic email replies to inquiries so that it is an email address with your original domain name.
If you have an email service that you contracted yourself (such as Google or other cloud email services), you can also use that email.
If you are using an original mail server, you will need to reconfigure your SMTP settings. For this purpose you can use the well-known plugin WP Mail SMTP by WPForms or other plugins of your choice. You can also set up your site to use ReadyShip's AWS infrastructure. In this case please contact our support team.