Details of Our Plans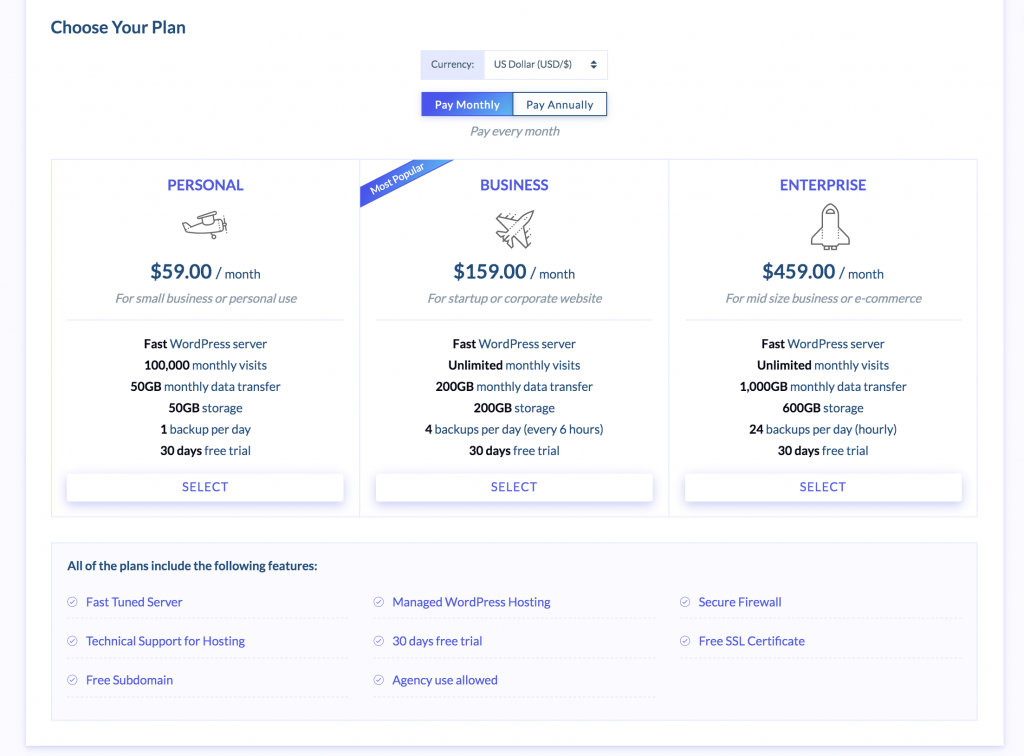 ReadyShip offers three types of plans: Personal, Business and Enterprise. The details of each plan are displayed in the following table:
| | Personal | Business | Enterprise |
| --- | --- | --- | --- |
| Monthly Unique Visits | 100,000 | Unlimited | Unlimited |
| Monthly Data Transfer Limit (GB) | 50GB | 200GB | 1,000GB |
| Storage Capacity | 50GB | 200GB | 600GB |
| Daily Backups | 1 | 4 | 24 |
If You Exceed Plan Usage Limits (Monthly Data Transfer, Storage, Etc.)
If your site's usage exceeds the upper limits specified under each plan (data transfer or storage capacity) for 60 or more days, ReadyShip Support Team will contact you. In this case, you will not be billed for the excess. However, you may be required to change the plan within 30 days.
Changing Plans During Use
You can change your plan while using the service. However you are not able to do that manually. You will have to contact our Support Team.
If you have selected a plan and you choose to upgrade it (for example, switching from Medium to Large plan), your new plan's price will apply from the following month's billing.
If you have selected annual payment method, the difference in price will be calculated according to the time remaining in the year and you will have to pay that difference when changing plans.
Which Plan Should I Choose?
The basic feeling will be the same regardless of which plan you choose, so we recommend selecting a plan that suits the purpose and the scale of your website.
For individuals or small-scale businesses: we recommend Small plan.
For startups and typical businesses: we recommend Medium plan.
For e-commerce sites and sites of a medium scale or larger: we recommend Large plan.
Features Included in All Plans at No Extra Charge
All our plans offer the following items at no extra charge:
Subdomain and ability to set an original domain
SSL certification (HTTPS)
CDN for high-speed performance
Customized servers for WordPress use
Managed hosting
24/7 monitoring
Support
FTP usage
Automatic backups and ability to restore from backup
Subdomain or Original Domain Settings
You can use a subdomain provided by ReadyShip at no extra charge. For more details, please check Domains.
SSL Certificates (HTTPS)
We provide SSL certificates. We use AWS's Certificate Manager, so the issuing authority of your certificate will be Amazon. We also handle SSL for original domains at no extra charge. You can also apply certificates that you have obtained on your own. For more details, please check Domains.
CDN for High-Speed Performance
We provide CDN (Content Delivery Network) for high-speed performance. We use CloudFront, the AWS's CDN service. This will allow your site to respond fast even to large number of viewers. You can clear the CDN cache from your WordPress dashboard. For more details, please check CDN.
Servers Customized for WordPress
We provide servers with Linux OS, PHP, Openlitespeed and other settings, customized specifically for WordPress. For more details, please check Hosting/Server Details.
Managed Hosting
There is no need for you to initialize any database or install WordPress. WordPress core updates will also be performed automatically. Though you will need to perform theme/plugins updates by yourself.
24/7 Monitoring
ReadyShip operates monitoring systems and observes all websites 24 hours a day. When a problem is detected, our support team works to resolve it.
Support
Support is included for matters concerning the hosting and assistance using our service. For more details, please check Support.
FTP
You can use FTP. FTP accounts are sent via email for each website, so you can use a regular FTP client.
Note: This functionality is not available during the free trial period.
Automatic backups and ability to restore from backup
Our system makes automatic backups of all websites. The number of daily backups depends on the website's plan. Along with automatic backup comes the ability to restore the website from backup. For more details please check Backup and Restore.